A Version Of  The Original Book By Kenneth Annett
Peninsula Point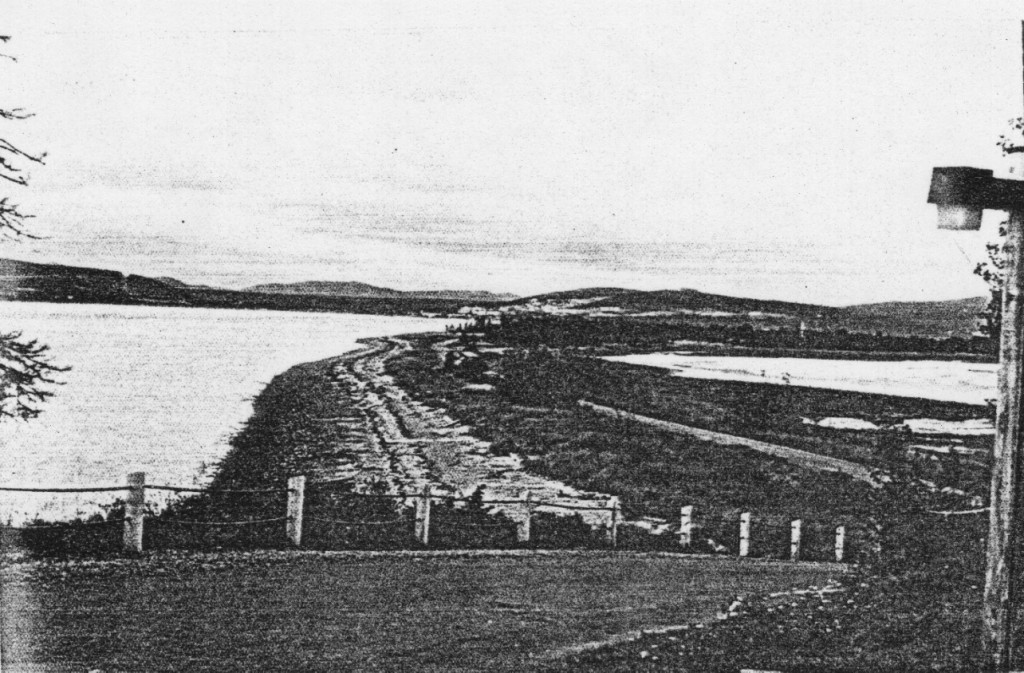 I see again the long white stretch
Of sand on the curving shore.
I see again that littered beach
Stumps, driftwood, logs, sand planted each
Grey, white, and bare in the sun's hot bleach,
The driftwood of the shore.
To The Memory of William Edward
And Elizabeth Siddon Annett
*************
We are far from sight of the harbour lights,
Of the sea-ports whence we came'
But the sea calls and the cold wind bites,
And our hearts are turned to flame.
I must go down to the seas again,
For the call of the running tide,
Is a wild call and a clear call
That may not be denied:
And all I ask is a windy day
With the white clouds flying,
And the flung spray and the blown spume
And the sea-gulls crying.
John Masefield
Acknowledgements
This record of the Annett family of Gaspé reflects the interest and help of members of the family and friends.   I acknowledge gratefully their invaluable contributions and the support of my immediate family in this long and laborious project.
Ken Annett
Research Sources
The Genealogical Society of London.
The Royal Courts of Justice of London
Parish Registers of Hampshire, Middlesex and London
Institute Araldico Coccia, Florence, Italy
Public Archives of Canada
Archives Nationale – Quebec
P.E.I. Provincial Archives
P.E.I. Heritahe Foundation
N.B. Provincial Archives
Archives of the Anglican Diocese of Quebec
Literary and Historical Society of Quebec
Legislative Library – Quebec
University of Toronto Archives
Books and Articles
Clarke:  'Sketches of Gaspé'
'The Heart of Gaspé'
'Ile Percee'
MacWhirter:   'Treasure Trove in Gaspé'
Flowers:    'Loyalists of Bay Chaleur'
Pelland:    'La Gaspeesie'
Ferland:    'La Gaspeesie'
Roy & Brault   'Historical Gaspé'
Ganong:       'History of Miscou and Shippegan'
LeMoine:     'Les Pecheries du Canada'
Tryckare:    'The Whale'
Lelievre:      'Histoire humaine du Parc Forillon'
Blakely & Vernon:    'The Story of P.E.I.'
Harvey:      'Journeys to the Island of St. John'
Mousette:     ' La Peche a la baleine'
Bonnycastle:    'The Canadas in 1841′
Phillips:   History of Peninsula Point'.
Jones:    'Anse aux Cousins'
McDougall:   'Bound a whalin'
'Shipbuilding in Gaspé'
Von Iffland:    'Visit to Gaspé'
Revue d'Histoire de la Gaspesie.
Foreword
As the bicentennial of the Annett Family of Gaspé draws near it seems fitting to record the origins and descent of a family that has been part of the Gaspé community since the arrival of William Edward and Elizabeth Siddon Annett at Peninsula on Gaspé Bay nearly two centuries ago.
This project is given a certain amount of immediacy by trends of our time.   In the closing decades of the 20th century we experience the unprecedented impact of rapidly accelerating change.    Yesterday tends to be soon forgotten amid the events and pressures of today and concern for tomorrow.   Such constant change can induce a disturbing aura of impermanence  and insecurity if we are not conscious of our past and aware of the heritage that is our family legacy.   When expatriate descendants of pioneer Gaspé families return to the sea-girt communities of their native land they experience a unique refreshment of spirit that is at once mystical and very real.
This record does not presume to be complete and exhaustive.   The span of time involved and the variety of personalities, situations and experiences it attempts to reflect , preclude such claim.   It does not embody, however, the invaluable and appreciated contributions and comments of many members of the family.   Its only purpose is to provide a base for those interested in family history and to serve as a source from which the ever-widening circle of descendants of William and Elizabeth Annett can trace their lineage.
Kenneth Hugh Annett
Annett Family Origins
We are indebted to the late Captain Stephen Annett of England for his insight and information on the origins of our family.   Stephen was a dedicated and skilled searcher of family history.   Prior to his death he donated his family charts and three volumes of collected notes to the Genealogical Society of London where they are available to interested members of the family.   He also corresponded extensively with Annett descendants abroad, including the late Douglas Annett of Outremont and Robert Annett of Albany, New York.   His letters are a fascinating and invaluable source of family information.   Stephen's work is currently being extended by Norman Annett of Devon, England.
His search of Annett family records in England, Ireland and France led Stephen to conclude that the family is neither English nor French in its origins.   He was convinced that the family originated in North Italy as descendants of Cis-Alpine warriors that had descended into the Lombardy Plains and inter-married with the distinctly different Italian families of that region.   Stephen confirmed the Italian origins of the Annetti family with genealogical authorities in Rome but was thwarted from obtaining records because of the occupation of Italy during World War II.   More recently correspondence with genealogists of Florence has reconfirmed that it is possible to obtain Annetti family records.   However the cost involved has been considered prohibitive to date.
Members of the Italian Annetti family migrated from North Italy to France.   It is considered that this migration may well have occurred at the time when Catherine de Medicis, a daughter of the ruling family of Florence, came to France as the wife of King Henry II.   It is known that members of the Annett family in France were of the Huguenot faith.   During the savage Huguenot persecutions some of the family lost their lived while others escaped from France to find refuge in Holland and England.   Records of that difficult period were found by Stephen Annett in the archives of Boulogne and other French centres.
The arrival of the Annett family in England is noted in official records kept during the reign of Queen Elizabeth I.   Ralph Annett, the founder of the Northumberland branch of our family, reached England from Holland in the year 1555 and from that time a record of his descendants has been kept.   Over the next two hundred years the various branches of the Annett family established deep and abiding roots in the British Isles.
William Edward and Elizabeth Siddon Annett
As the founders of the Annett family of Gaspé, William Edward and Elizabeth Siddon Annett have just right to precedence and honour in any record of our family.
Notwithstanding decades of diligent search in Canada and England it has not, as yet, been possible to document the baptism, marriage and burial of William.   This is particularly frustrating since the main outlines of his life can be discerned by inference and from long family tradition.    Norman Annett is continuing the search of old parish records in England and it is hoped that records of his family will be found.
Work on family history done by the late Capt. Stephen Annett and the current search of Norman Annett indicate that William was the son of a branch of the Annett family of Hampshire, England, and that his date of birth was circa 1740.   Information on his early life is scant.   There are indications that he was employed in farm work in the Salisbury vicinity as a young man.   It is known that he was drawn to London and that there in 1770 he met and married Elizabeth Siddon who had lived in the parish of St. James, Westminster.   This parish, now part of Greater London, was at that time in Middlesex.   Intensive search for a record of their marriage is continuing but has not,as yet, proved successful.
Elizabth Siddon, daughter of William Siddon, was born in the year 1746.   Her uncle, John Siddon, and his wife Elizabeth Conway Siddon, who were married in the parish of St. James, Westminster, in 1738, had no children of their own and there is a strong tradition that Elizabeth grew up in the home of her uncle John Siddon and left only upon her marriage to William Annett in 1770.   She would then have been twenty-four years of age.   Tradition states further that at the time of her marriage Elizabeth was provided with a dowry of household needs and furnishings by her uncle and that he subsequently provided a legacy for her in his will.   Credence has been given to tradition by the recent discovery in London records of official advertisement for Elizabeth as a legatee following the death of John Siddon.   There is no evidence that Elizabeth, then far distant in Canada, was aware that she was being sought in England as a legatee, or that she ever received a bequest from her uncle John Siddon.
It would be of great interest to know why William Annett and his wife took the momentous decision to leave their native England, their families and friends and take passage by sailing ship to distant Canada in the year 1770.   Heir courage must have been sorely tested during that difficult sea passage when their first born daughter, Ann, died and was buried at sea.   They landed in prince Edward Island to encounter primitive and harsh living conditions.   There, in 1771, their second child, a daughter named Elizabeth, was born.
Following many years of search I the civil and church records of Prince Edward Island the first reference to the presence there of the Annett family has recently been found.   In old legal documents of a civil suit of 1773 involving Robert Clark, merchant, and Ann Coffin Callbeck, wife of Phillips Callbeck, the Annett name appears as the purchaser of goods from Robert Clark.   The archivist of P.E.I. is of the opinion that Annett was either employed by or associated with the Callbeck family with the privilege of charge to their account.   Search is continuing at the P.E.I. Archives and Heritage Foundation with the hope that other references to the Annett family can be found.   It is known that in 1773-1774 the Reverend Eagleson, Anglican clergyman of Cumberland, Nova Scotia, visited various settlements on Prince Edward Island.   In his reports to the Society For The Propagation Of The Gospel, he stated that he had baptised a number of children of the settlers on P.E.I.   It is considered that Elizabeth, daughter of William and Elizabeth Siddon Annett, may well have been among that number, but, to date, the register of the Rev. Eagleson has not been found.
In 1774 the Annett family are reported to have been living, either on a temporary or permanent basis, on Miscou Island at the entrance to Chaleur Bay.   There, John, their first son, was born.   Shortly after his birth, with William absent from home on account of his work, their dwelling caught fire and was destroyed along with their worldly goods.   Elizabeth, their three year old daughter and infant son barely escaped with their lives.   Efforts have been made to document the sojourn of the Annett family on Miscou Island but no records have yet been found.   There is however reason to believe that William was employed there in the building and repair of fishing craft.   Miscou was a noted fishing base in season for the fishermen of Gaspé and it is probable that it was from them that William learned of the opportunities for settlement along the sheltered shores of Gaspé Bay.   From Miscou, in clear weather, the mountains of Gaspé lie blue on the horizon across the broad expanse of Chaleur Bay.
The period of time from 1775 to 1785 continues to challenge searchers of Annett family history,   There is evidence that the family was established at Peninsula in Gaspé circa 1785 but it is the story of the decade preceding the Peninsula settlement that remains to be documented.   The family may have moved to Shippegan from Miscou and from thence back to Prince Edward Island.   Tradition holds that their final move to Gaspé was made from P.E.I. and was one of necessity as the island crops on which settlers depended for food were ravaged and destroyed by a plague of mice.   Such plagues are recorded as having occurred on P.E.I. at intervals.   It is again a tradition that Richard Miller, having moved from Cape Breton to P.E.I., met William Annett and his family there and accompanied them on their move to Peninsula.
Peninsula Point, the landfall of  the William Annett in Gaspé Bay and probably the site of their first dwelling in Peninsula, is at the entrance of the magnificent harbour of the inner bay of Gaspé.   An outline of its interesting history will be attempted I another section of this record.   The Point was not, however, a desirable site for permanent settlement and the pioneer families established their homes on the land adjacent to and overlooking the Point.   It is on the claim for such land that we have in the following document from the public archives of Canada the first and only record found to date for William Annett.
Text of petition of William Ennet for a grant of land at Peninsula, Gaspé.
"To His Excellency Alured Clarke Esquire, Lieutenant Governor and Commander in Chief of His Majesty's Province of Lower Canada, The Petition of William Ennet humbly showeth that your Petitioner with his family consisting of a wife and seven children, has for these four years last past, dwelt on a spot pf land situated on the north side of the north west arm of Gaspee and by his industry has made considerable improvement to the premises, wherefore the better to secure to your Petitioner and family the fruits of their labour, humbly prays Your Excellency to grant him two hundred acres of land, to begin at the boundrey line between him and Samuel Beaker, and to run thence along the shore towards the Red Creek, with the customary depth backwards to make up the two hundred acres above pray'd for and Your Honour's Petitioner as in duty bound will pray.
(Signed) Will'm Ennet"
The petition bears the following endorsement:
"The Petitioner is a native of old England, has resided in this country near twenty years, raised a large family and has always behaved inoffensively and very industrious and certainly has merit to deserve.
(Signed)  Felix O'Hara"
The petition bears no date.  Along with a number of other petitions it was submitted to the Land Committee of Gaspé and entered on the minutes of 25 March 1793.
The home of the pioneer Annett family at Peninsula was blessed with the sons and daughters shown on the charts of this record.   From the recorded careers of the sons as ship builders, sea captains, whalers and traders it would appear that their interests, activities and skills reflected those of their father.   The daughters married the sons of other pioneer Gaspé families.   William and Elizabeth Annett had every reason to feel pride and satisfaction with their offspring.
How long William Annett lived to enjoy his home and family in Peninsula is as yet unknown.   Prior to the year 1820 there was no resident Protestant clergyman in Gaspé to keep church records and as there is no reference to the death of William in existing records it seems evident that his death occurred prior to 1820.   We are indebted to Henry Johnston for insight on baptism, marriage and burial in the period of time prior to resident clergy.   An interesting extract from his letter of 1813 is included with this record.   It must be assumed that William Edward Annett was laid to rest near his Peninsula home with reading of the burial service of the Book of Common Prayer by one of his friends and neighbours.   His remains were committed to a grave far from his native Hampshire in England at a site overlooking the expanse of Gaspé Bay.
Elizabeth Siddon Annett lived to the age of 87 to see her grandchildren growing up in the homes of her sons and daughters about Gaspé Bay.   That she was a woman of remarkable character and pioneer courage is reflected in her life and the lives of her family.   Her descendants can only marvel at the faith and fortitude of such wives and mothers in an age when the conveniences and affluence that we take for granted were totally unknown.   Elizabeth did more than maintain a home for a numerous family, she set them an example and  left them a legacy of faith and adaptability to life's problems that constitute a precious heritage.
Her death occurred in 1833.   She was buried by the Rev. Willam Arnold.
The Island
As Prince Edward Island was the landfall and first home of William and Elizabeth Siddon Annett overseas, its story, prior to their settlement, has a place in the family record.
Known to its native Micmac people as 'Abegweit' or 'Cradled in the Waves', the island was, early in the 16th century, frequented by fishermen of western Europe – Basque, French, Portuguese and British – who used its magnificent beaches to dry their fish, try out whale oil and hunt the 'sea-cow' or walrus that were common then along island shores.   Though these European fishermen and whalers had contact with the native Micmacs and engaged in casual trade with them, no permanent settlement was made and no written records left.
In 1534 the great French explorer, Jaques Cartier, landed on the island and recorded his impressions of its shores before sailing on to Gaspé.   He noted the large summer encampment of Indians at Malpeque and described the land in general as of the best quality that could be seen.
It remained for Samuel de Champlain to formally name the island, 'Isle St. John' and place it on early maps of the Gulf of St. Lawrence.   France granted island concessions to Denus, Doublet and others but settlement did not begin until the time of the Treaty of Utrecht.   The founding of  the great French fortress of Louisbourg accelerated the development of Isle St. Jean as a source of food supply for the Louisbourg garrison.   By the time that Louisbourg fell to the British there were some 5000 French settlers on the island in more than 30 communities.
With the fall of New France to the British in 1760 the French regime in Isle St. Jean came to an abrupt end.   Its French settlers were deported or fled before the occupying force of Colonel Lord Rollo.   The Board of Trade and Plantations of London ordered a full survey of the island and appointed Captain Samuel Holland to that task.   Prior to undertaking this survey Captain Holland was in Quebec and had talks there with Captain Dean R.N., who advised him regarding the situation he could expect to find on the island.   It is of interest to note that Captain Dean was one of the first claimants of a large grant of land in Gaspé.
By dint of much hard work Captain Holland completed his survey in 1766 and the following year grants of land were awarded by lottery in London.   Each holder of land was expected to settle and develop his grant.   Though this requirement was not always honoured a migration of English settlers to the island began in 1768.
William and Elizabeth Siddon Annett were thus among the early pioneer English settlers of Prince Edward Island by virtue of their arrival there in 1770-71.   It is recorded that Covehead, Malpeque and Charlottetown received groups of settlers at that time.   While it has not, as yet, been possible to determine where William and Elizabeth settled on the island, it is recorded that the immigrants all faced primitive and harsh conditions.   Courage and fortitude were qualities that the island demanded of its early British settlers.
Peninsula, Gaspé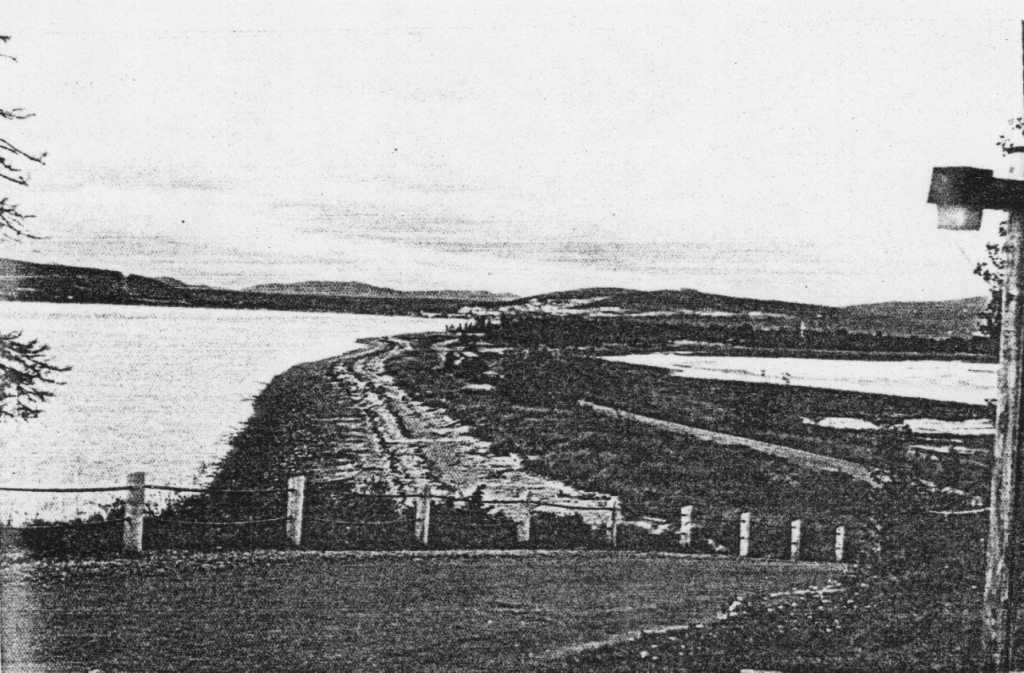 Peninsula Point where William and Elizabeth Siddon Annett landed in Gaspé and where they may have lived for a time before moving to a permanent home on land overlooking the Point, is a site of interest in terms of both its geography and history.
Peninsula itself, the sand triangle with which the name originated, was a natural place for settlement.   It lay sheltered from outside storms but within easy reach of the cod and mackerel; handy too for the salmon filling the waters of the nor'west arm which came pouring down from the distant serpentine hills and the Notre Dame or true Shickshock Mountains.'
The plain of the Point was wooded down to the line of tidal wash along its beaches with groves of spruce and ground pine, interspersed with bushes of low cranberry.   These groves offered shelter for the original Indian encampments during the summer fishing season and later in time for the dwellings of French  fishermen and settlers in the time that preceded the British conquest of New France.
From far distant times Peninsula Point had been a rendezvous and seasonal fishing station for the Micmac and other Indian tribes.   Miss Dorothy Phillips of Peninsula, writing in the 'Revue d'Histoire de la Gaspesie'  on Peninsula Point from first hand knowledge and keen appreciation of its past, has recorded a vivid picture of the life of such Indian people of the Point as observed by Jacques Cartier in July 1534.   It is possible that in even more distant times the Indians of the Point had seen the arrival of intrepid Norse explorers and had made contact with the Vikings, mighty seamen and warriors, on the beaches of Peninsula.   It is known that decades before the recorded voyages of Jacques Cartier, Basque and Breton fishermen frequented the gulf waters in search of cod and whales and may well have used the Point and its convenient beaches to dry their fish, try out whale oil and replenish their supply of fresh water.
Following the year 1600 French ships inbound from Europe to Tadoussac and Quebec and others outbound for the long Atlantic crossing often called at Gaspé.   Thus in 1628 the French supply fleet of Admiral de Roquemont met its nemesis there at the hands of the Kirke Brothers and Peninsula Point may well have experienced the roll of battle and the subsequent division and reshippping of the rich spoils.   When French settlement at the Point began is not clear or precise but its origins undoubtedly were in the need for a permanent fishery to supply the growing French settlements on the St. Lawrence.
As the sun may shine forth from a break in the clouds to light up the waters of Gaspé Bay so its history is illuminated from time to time by events of particular interest.  In August 1711 watchers on Peninsula Point must have stood in awe and wonder as the ships of a mighty British fleet under the command of Admiral Sir Hovenden Walker sailed majestically towards them up Gaspé Bay.   The flagship Edgar, of 70 guns, was supported by the Windsor of 60 guns, Montague of 60 guns, Swiftsure of 70 guns, Sunderland of 60 guns, Monmouth of 70 guns, Dunkirk of 60 guns, Humber of 80 guns, Devonshire of 80 guns and followed by no less than 70 transport ships loaded with troops, munitions and supplies.   Within the harbour of Gaspé a French ship from Biscay lay unrigged, waiting to load a cargo of fish for Europe.   'I sent in', wrote Admiral Walker, ' and seized her, intending to rig her out'.   When his men reported to him that they considered the channel to be too intricate to bring the French ship out, the Admiral added, 'I therefore ordered her to be burned, as well as the houses and stages ashore, and the men to be brought on board prisoners'.   Little did Sir Hovenden and the captains of his fleet know as they sailed away from the despoiled haven of Gaspé that within days they would meet maritime disaster in the stormy, fog shrouded waters of the Gulf of St. Lawrence.
During the years of relative peace following the Treaty of Utrecht in 1713 the fishery in Gaspé Bay flourished and Peninsula Point saw much seasonal activity.   Plans were discussed at Quebec for the fortification of the Point but no such action was actually taken.   In 1757 Pierre Revol came to Gaspé Bay as the agent of Governor Vaudreuil.   He established himself on Peninsula Point and had as his associates in developing settlement., Pierre Arbour and Andre Arnoux.   The Point was the centre of activity but records indicate that a lumber mill was operated in York on the south west arm, that hay was harvested on the marshlands of the Dartmouth and that L'Anse aux Cousins was a haven for fishing craft.
The great French fortress of Louisbourg fell before British naval and military attack in the summer of 1758.   To maintain the momentum of victory and keep the Forces active, General James Wolfe was given seven ships of the fleet and three regiments of troops, the 15th, 28th and 58th, and ordered to proceed to Gaspé.   From there he was to despoil the French fishing station of the Bay Chaleur and Gulf.   As the British squadron sailed up Gaspé Bay towards Peninsula Point on September 4th 1758 most of the French settlers fled up the arms of the Inner Bay.    General Wolfe sent his aide, Captain Bell, ashore at the Point under a flag of truce to demand surrender.   He found that the agent, Pierre Revol, had died a few days previously and that his widow had fled with others of the settlement for refuge up the rivers.   The day following, General Wolfe with Colonels Murray and Howe, landed with a regiment of infantry to take possession of the French settlement and supplies.   Parties of troops were dispatched to locate and bring back the French settlers who had fled.
For the month of September 1758 Peninsula Point served as the operational centre of the British Forces of General Wolfe.   While raiding parties were occupied in destroying the French settlements at Pabos, Mont-Louis and Miramichi, Wolfe and his men had leisure to enjoy boating, fishing and hunting in Gaspé Bay.   This period may well have been Wolfe's last opportunity to rest and relax prior to his appointment to the command of the Quebec expedition that would cost him his life on the Plains of Abraham in the following year.   Before the Force sailed out of Gaspé Bay on September 27th everything of the Peninsula Point settlement was destroyed and burned.   Soon all New France would fall to British arms.
Following the conquest his deputy, John Collins, paralleled the survey work of Captain Samuel Holland on Prince Edward Island in Gaspé Bay.   In plans that he drew up in 1765 twenty lots were laid out on Peninsula Point and shown as reserved for the fishery.   Each lot had a frontage of 240 feet.
Records indicate that the first English family to take up one such lot on Peninsula Point was Richard Ascah with his wife, Christina and daughter Hanna.   The story of this family has been published by Elmer Ascah, a descendant.   The family moved subsequently to another lot on the mainland overlooking the Point to establish deep and abiding roots in the Peninsula community.   By 1768 a Customs Post was established on the Point with Edward Manwaring as Customs Officer.   Manwaring, along with Captain Joseph Dean, R.N., claimed substantial land grants in Gaspé.   It is of interest that both men had links with Prince Edward Island and that Manwaring later moved to the Island.
It was to this pioneer English settlement at Peninsula, rising like the phoenix from the ashes of the French regime, that William and Elizabeth Siddon Annett came.   For them Peninsula would become a permanent home and as such will ever have a special place among their descendants.
The Long Finger of Cape Gaspé and Gaspé Bay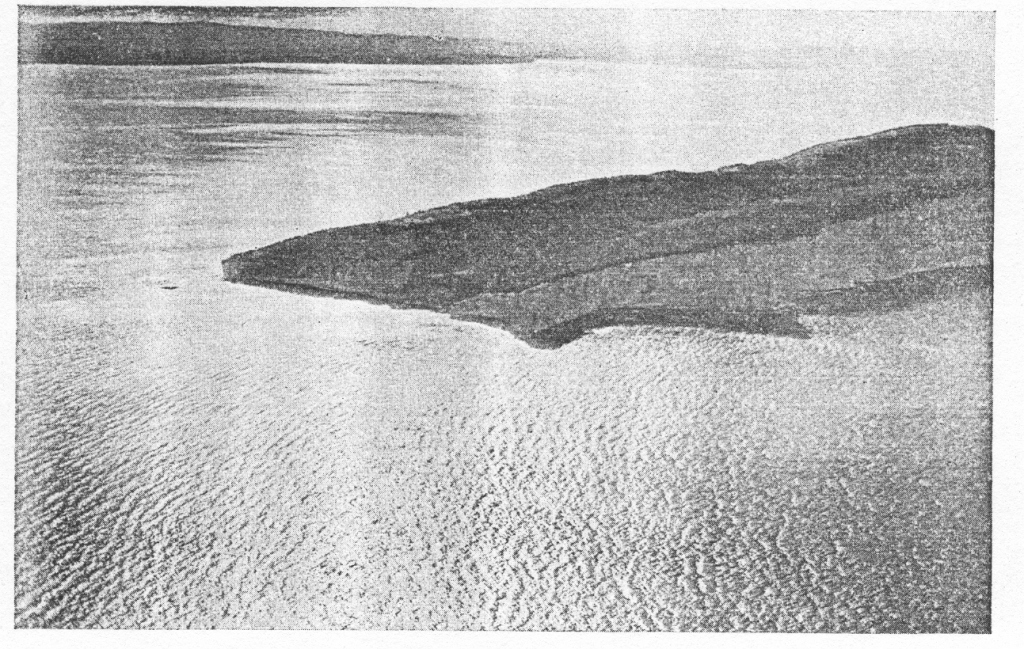 William Edward and Elizabeth Siddon Annett entered Gaspé Bay past the landmark of Cape Gaspé to land at Peninsula and establish the Annett Family of Gaspé.
An adaptation of a sketch map drawn by Miss Dorothy Phillips of Peninsula to illustrate her article on Peninsula Point published in the "Revue D'Histoire de la Gaspesie" Volume VIII, No.3, 1970.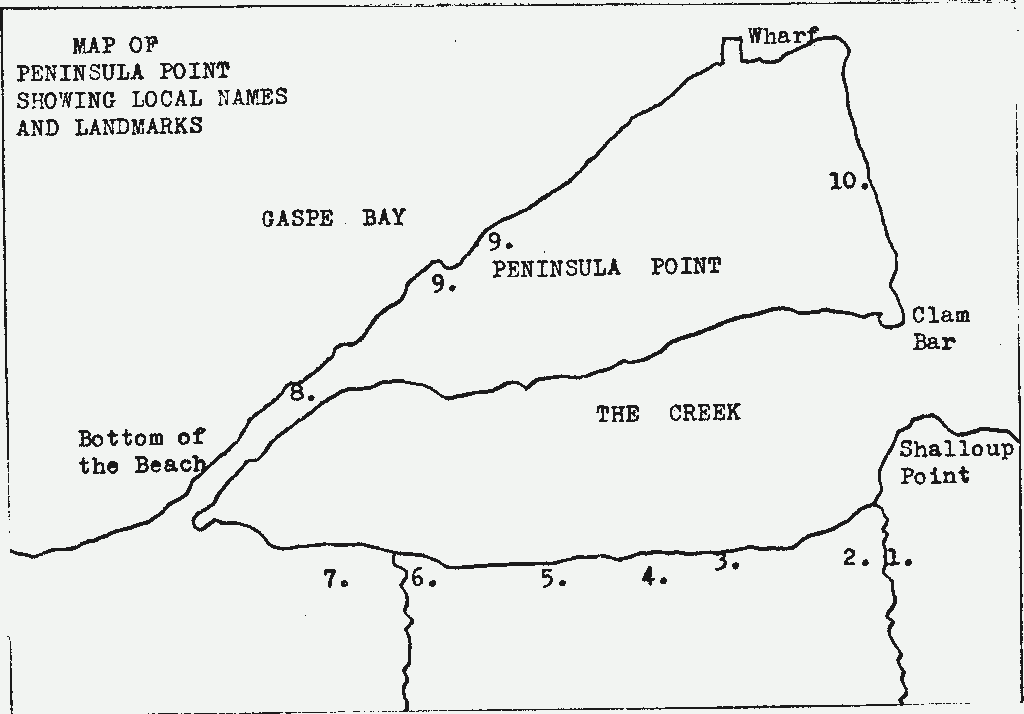 1.  Annett's Run    2.  Approx. location of first Annett house on the mainland.    3.     Shipbuilding yards.   4.  Approx. location of first Ascah house on the mainland.   5.   Location of cemetery of St. Matthew's.    6.  Trumpet's Brook.    7.  Approx. location  of first Miller house.   8.  The Opening" – Trees cut to allow a boat to be hauled through.    9.   Site of early houses on the Point. 10.  Beach of the Point.
Notes on Certain of the Descendants of
William and Elizabeth Siddon Annett
The history of the family will be a richer legacy for future generations if additional notes are contributed by interested members.
Elizabeth Siddon Ascah
Tradition holds that Elizabeth was born in 1771 after the settlement of her parents in Prince Edward Island.   She may well have been one of a number of children baptised by the Rev. John Eagleson who ministered to the pioneer English families in P.E.I. as early as 1773.   His reports to the Society for The Propagation Of The Gospel refer to the baptism of a number of children but detailed records have not, as yet, been found.  Following the arrival of the Annett family at Peninsula, Elizabeth, at age seventeen, married Robert Ascah, son of Richard Ascah, pioneer English settler.  The history of the Ascah family has been recorded and published by Elmer Ascah.
John Annett
The date of birth of John, the eldest son of William and Elizabeth, is on record as 1774.   By tradition his place of birth was Miscou Island.   In 1802, four years prior to his marriage to Catherine Baker and seventeen years before the hearings of the Gaspé Land Claims Commission at Douglastown, he submitted the following petition, which is on record at the Public Archives of Canada:-
"To His Excellency Sir Robert Shore Milnes Esquire, Lieutenant Governor of His Majesty's Province of Lower Canada and Its Dependencies, etc.
The Petition of John Annett of Gaspé, born and bred by English parents and inheriting their natural attachment to that Government and loyalty to their King; humbly prays that two hundred acres of His Majesty's ungranted lands in Gaspé Bay be granted to him and his heirs, to enable him to support himself and his family, beginning at a small creek known by the name of Shallop Run on the north side of Gaspé Bay, and running for front to the eastward.
And he as in duty bound will ever pray.
(Signed)     John Annet           Gaspé 20th January 1802."
It is known that John was active in ship building in company with his three brothers and neighbours.   This skill he is thought to have acquired from his father, William Edward.
Frances Annett Miller
The links between the Annett and Miller families have interesting tradition.   It holds that Richard Miller, a young seaman on an English ship bound for Canada, took command of the ship when its captain died at sea and was responsible for bringing it safely to port.   He was awarded a grant of land in Cape Breton but left there for Prince Edward Island where he met the Annett family.   With them he is reported to have made the move to Peninsula in Gaspé Bay.   Records of the Miller Family may indicate the date of marriage of Richard and Frances Annett.
William Annett
The second son of William and Elizabeth, William built and sailed Annett ships, was a noted whaler and from 1828 until 1841 served as the first keeper of the Perce Gaol.   The Public Archives of Canada has on record his petition for 300 acres of land at L'Anse aux Cousins on the north west arm of Gaspé Bay.   Margaret, wife of William Annett, is believed to have been the daughter of the William Patterson who was one of the pioneer loyalist settlers at New Carlisle.   The Patterson family later moved to Gaspé.
In 1833, when William and Margaret Annett were resident at Perce their eldest son, John, died in his 21st year.   His illness, death and burial were recorded by Joseph Tuzo, Catechist, of L'Anse aux Beaufils (formerly of Bermuda) in a letter to Archdeacon Mountain of Quebec.
The Canadian Archives has documentation for the career of William at Perce.   His whaling prowess is described in "Treasure Trove in Gaspé" by Mrs. McWhirter, and his last will and testament is a treasured possession of his descendants.
Richard Annett
Third of the sturdy sons of the first Annett family at Peninsula, Richard chose to take up a grant of land on the south west arm of Gaspé Bay.   There his descendants continue to live.   With his brothers Richard was active in shipping and was at one time a partner with the Boyle Brothers in a fishing and/or whaling station at St. George's Cove on the Forillon.   His first wife, Mary Boyle, died within a few years of their marriage.   He remarried with Sophia Coffin.   The descendants of that marriage form the most numerous branch of the Annett family of Gaspé.
George Annett
Along with his brother John, George Annett chose to remain at Peninsula.   His wife was the daughter of the Chisholm family, pioneer loyalist settlers at New Carlisle.   It is believed that they met through a common interest of their respective families in ship building and the sea.  This tradition of affinity for ships and the sea has persisted and has distinguished the career of their senior descendant, William Clifford Annett, now retired after long service with the Clarke Steamship Company.
Christy Annett
The youngest of the Annett family, Christy, born in 1787, was evidently not yet born when her father petitioned for his land grant at Peninsula.   Her husband was from Scotland.
Grandchildren of William and Elizabeth
William and James Annett
The visitor to the beautiful site of the Anglican Cemetery of Peninsula, overlooking Peninsula Point, will find there legible memorials to William and James, sons of John and Catherine Baker.   The inscriptions on other old Annett memorials have become illegible with the erosion of weather and time.   This site is now within the limits of the Forillon National Park.
Sarah Annett
Old records of the Malbay Mission reveal that Sarah lived at times with the family of her uncle William at Perce when William was keeper of Perce gaol.   Her name occurs a number of times as a sponsor at baptisms and witness at weddings along with those of her uncle William and aunt Margaret Patterson Annett.
Margaret Annett
Reference has been made to the death of Margaret's older brother John at Perce in his 21st year.   The Annett family had friends in L'Anse aux Beaufils and it was Daniel Cass of that locality that Margaret married.   Her father, William, left Margaret and her husband a share of his property in L'Anse aux Cousins in his will.   Margaret's daughter, Jemima Cass would marry Felix Joseph, grandson of William.
William George Annett
With his younger brother, Felix, William George inherited the L'Anse aux Cousins property of William.   Felix did not marry and his share of the land passed to his older brother on his death in 1869.   William george survived his wife Rosanna Patterson by twenty seven years.   He lived to see the 20th century.   My father, Percival Clarence Annett, had fond memories of his grandfather, William George.   His home had gone by my time but Dad often pointed out its site marked by a spring of fresh water and the persistent rhubarb plants of the old kitchen garden.
Felix Annett
Felix grew to manhood during the years that his parents lived in Perce.   Records of the Malbay Mission and of the Du Val family of Bonaventure Island indicate that he was active and widely known.   He was a noted whaler as recorded by Mrs. McWhirter in "Treasure Trove in Gaspé".   Other records often link his name with that of Felix Boyle.   He did not marry and was only 50 years of age when he died in 1869.
N.B. For lack of documentation the charts do not reflect certain tradition that William Annett remarried with Sarah Whitney Patterson, widow of Bill Patterson.
Evidence of the close ties that existed between the pioneer English families of Gaspé is to be found in the marriages of the sons and daughters of Richard and Sophia Coffin Annett with the Ascah, Bechervaise, Coffin, Eden, Falle, Miller and Patterson families.   Six such marriages were within the lifetime of Elizabeth Siddon Annett.
As a son and daughter of George and Marty Chisholm Annett married into the Ascah family, reference should be made to the published Ascah genealogy.   Descent from George, in the male line, is traced through his son, James Henry and his wife, Charlotte Jane Miller Annett.
Great Grandchildren of William and Elizabeth
Helen Grace and Eliza Jane Hart, the respective wives of William Henry and John James Annett, were descendants of Aaron Hart, pioneer Jewish settler at Three Rivers after the British conquest.   Hart is reported to have come to Canada with the forces of General Amherst as Paymaster.   He and his sons were merchants and landowners in the Three Rivers – Sorel area and were active in public life.   Hart Street in modern Three Rivers bears the family name.
Felix Joseph Annett
The grandson of William, Felix Joseph inherited and developed the L'Anse aux Cousins property settled by his grandfather.   He was an active builder.   With the aid of his sons he built three homes on the farm and also new barns and other farm buildings.   He was a skilled boat builder and made the flats used for the fishing of salmon and smelt.   He made many summer trips to the River Romaine of the north shore to fish salmon.   He served as an officer of the Gaspé militia.   He was a keen woodsman and enjoyed hunting and trapping in leisure time.
Margaret Ellen
Margaret Ellen lived with her husband, Charles Boyle, at York on the south west arm.  During my youth "Aunt" Maggie visited the home of her brother, Felix, regularly to exchange family news and views.
Benjamin Richard Annett
The family name of Eliza Languedoc, wife of Benjamin Richard Annett has been part of the christian name of descendants.   It is to be hoped that the Languedoc family history will be recorded and published.
William Annett
William and his wife, Margaret Patterson Annett need to be distinguished from the older couple of the same name.   Son of Richard William lived from 1820 to 1897.
George Jehosaphat Annett
Founder of the Metis branch of our family.   George Jehosaphat married a daughter of the Campbell family of that community.   Descendants continue to live in the vicinity of Metis.
Henry Falle Annett
The family of Henry Falle Annett and his wife, Frances Grace Fenn, returned to England where their descendants remain.    Maisie Rosalind Keene Annett, wife of Wilfred Thomas Fenn Annett, corresponds with members of the family in Gaspé and has kindly contributed to this history of the Annett family.
Brian John Annett
Brian John left his native Peninsula to settle in Campbellton, N.B.   He was a master carpenter and builder with the Harquail Company.   Senior members of the Harquail family who remember him well recount that he built the ferry boats that once plied between Campbellton, N.B. and Cross Point, P.Q. and that in leisure time he was the captain of the Harquail schooner.   He rtired in Moncton where he died and was buried.
Melvin William Annett
Younger brother of Brian, Melvin was drowned in the River Restigouche in 1889 while rafting logs.   He was only 21 years of age.
Great Great Grandchildren of William and Elizabeth
James Alexander
Douglas

Annett

Douglas, who lived in Outremont, Montreal, was keenly interested in Annett family history.   He made contact with Captain Stephen Annett of England, an authority on family origins and history.   Their correspondence over a period of years is a precious source of information on the Annett family.
Vivian Grace Annett
The great granddaughter of John Annett, Vivian married Earle Languedoc, the great grandson of Richard Annett.   From her native Gaspé she moved with her husband and family to New Carlisle to open the "Carlisle" hotel.   She died and was buried in New Carlisle.
George Douglas and Siblings
In addition to these six children Felix Joseph and Jemima Cass were foster parents to Emma Lenfesty.   Emma grew up in their home and was considered to be a regular member of the family.   She moved to Montreal where she worked until retirement for the Travellers Insurance Company.   She died in 1973 and her ashes rest in Mount Royal Cemetery.
Earle Languedoc Annett
Earle Annett senior was widely known from a lifelong career with Gaspé hotels.   He managed the famed "Baker's" Hotel in Gaspé and then built and operated the "Carlisle" Hotel in New Carlisle.   Like his cousin, Douglas, he was interested in Annett family history
Charles William Annett
Charles William and Ida Patterson Annett were feted by their family and many friends in Gaspé on the 60th anniversary of marriage – 1917-1977.
Whorrel Wilson Annett
Born in Wakeham on the south west arm, Whorrel Annett had a distinguished career in banking.   He rose to the post of manager of The Bank of Toronto branch at Gaspé.   During the lean and difficult years of the great depression the bank, under his leadership, was a stabilising force in the economy of the Gaspé region.   He recruited and trained many young Gaspesians for banking careers.
Lloyd John Annett
Following an early career beyond the Gaspé region Lloyd Annett returned to his native Wakeham.   As the builder and operator of the Esso service station at the inter-section leading to the Gaspé bridge he was widely known both to his fellow Gaspesians and to visitors to Gaspé.
Brian John Annett
Search continues for dates and details on the family of Brian John Annett.   His son, Lewis, was on active service in World War I and on his return worked for the city of Campbellton.   His daughter, Nellie, moved with her husband, James Kelly, to Moncton, N.B.   Contact has not yet been made with Brian's grandson, Robert James Annett.
Sydney Cameron Annett
With his brother, William Clifford, 'Syd' Annett had a long and responsible career with Clarke Steamships.   He later was a partner in the Gaspé firm of John F. Davis & Sons.   His Peninsula property is maintained by his son, Reginald.
Ulric Siddon Annett
The family name of Elizabeth Siddon lives on in the names of her great great grandson Ulric Siddon and her great great great grandson, also named Ulric Siddon.
Long and persistent efforts have been made to trace the Siddon family in London, England.   Beyond the marriage of John Siddon of the parish of St. James, Westminster, little of value has been found to date.
A family tradition holds that soon after the arrival in Gaspé of William and Elizabeth Siddon Annett a Royal Navy ship came to Gaspé harbour and its captain met the Annett family.   He is reported to have told Elizabeth that he had the captain's shock at the primitive, pioneer conditions faced by Elizabeth in Peninsula with those of her family in London.   She was, however, content and had no wish to return to her native land.
Francis Annett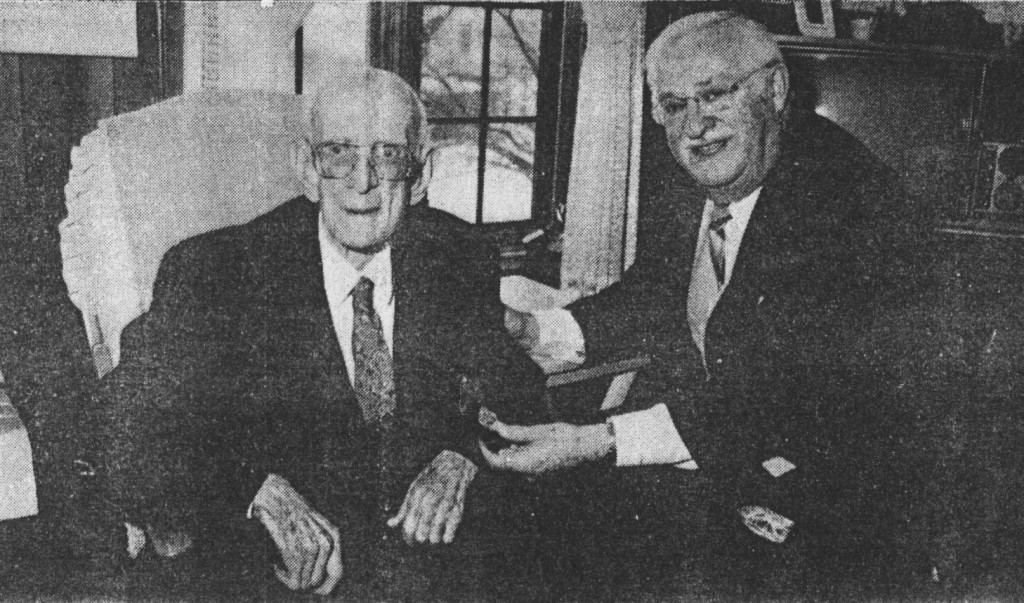 Most Wor. Grand Master Maurice Kershaw attaches the 70 year pin to Bro. Annett's lapel, a faithful member of Masonic Century Lodge, Gaspé.
To mark this unique event a large delegation from the Grand Lodge of Quebec overcame the inconvenience of a snowstorm to attend the event.
(Undated photo)
Some Memorials
Memorials to members of the Annett Family on Peninsula in the cemetery of St. Matthew's Anglican Church.   The inscriptions on many of the stones are illegible.  The cemetery, now within the Forillon Mational Park, occupies a beautiful site overlooking Peninsula Point, the creek and Gaspé Bay.
Vessels built and/or owned by the Annett family
(Registers to 1828)
Researched by Mrs. Doris Ascah McDougall
Trial Built Gaspé 1805. Reg.. Aug.10 1805.   Owners William Annett, George Annett shipbuilders together with John Annett and Richard Annett, carpenters, all of Gaspé.  Master William Annett.  Originally pink-sterned schooner.  Rebuilt as square-sterned schooner and re-reg. 1806.  45 tons.  Wrecked  Magdalene River Nov.7 1807.
Four Built Gaspé 1808. Reg  Nov.2 1808.   Owners William Annett
Brothers and George Annett, shipbuilders and mariners of Gaspé.  Master, William Annett, later A Cass.   Square-sterned schooner, 51 34/94 tons.
Mary Boyle Built Gaspé 1811.  Reg. Que. Nov. 6 1811.  Owners John Boyle and George Boyle together with Thomas Boyle and Richard Annett, all of Gaspé.    Square-sterned schooner.  80 tons.
Eliza Built Gaspé 1812.  Reg. Que.  Sept. 24 1812.  Owners James Baker, George Annett,  Wm. Baker, John Annett, mariners.  Master, James Baker, later Wm. Baker.   Square-sterned schooner, 65 7/94 tons.
Charlotte George Annett had an interest in the ill-fated Charlotte which he transferred to Robert and Richard Ascah.  This vessel was wrecked in the St. Lawrence in 1831 – passengers and crew all lost – this last is not documented but family tradition.
Ann Built Gaspé 1816.  Reg. Quebec Nov. 9 1816.  Owners John Patterson together with Richard Patterson and Wm. Annett, mariners of Gaspé.  Master, John Patterson.  Square-sterned schooner 75  34/94 tons.  Re-reg. 1825.  Transfer of all rights by Richard Patterson for himself and acting for J. Patterson deceased, and William Annett of Gaspé, mariners, to C.W.Ross of Quebec, merchant.
Annabella Built Gaspè 1818.  Reg. Que. Oct. 8 1818.  Owners George Boyle, mariner, together with John Boyle, Richard Annett, James Boyle, Felix Boyle, mariners, all of Gaspé.  Master, George Boyle.  Square-sterned schooner.  87 tons.
We do not have the Quebec register from 1828 on.   The Gaspé register begins in 1843 so there is a gap in our information here.
Defiance Built Peninsula 1843 by William Annett.   Reg. Oct. 21 1844.   Owners, William Annett, James Annett, John Annett.   Master, William Annett.  Square-sterned schooner.  39  1454/3500 tons.  Vessel lengthened and Re-reg. May 16 1853.  Owners William Annett, James Annett, John Annett, Edward Annett.   Master, William Annett.  65  359/3500 tons.
Rose of Gaspé Built Gaspé Basin 1841.  Previously registered Quebec 1841.   Transferred and altered.  Reg. Gaspé 1845 Oct. 14.  Owners, William Annett and George Annett of Gaspé Basin, farmers and fishermen with Abraham Paterson and William Paterson, farmers and fishermen.   Master, Benjamin Paterson, later June 20 1848 William Paterson.   Re-registered Gaspé 11848 (name shown as Rose) – owners Vital Fournier and Simon Fournier.  Square-sterned schooner.  34  1728/3500 tons.
Perseverance Built Gaspé Basin 1840.  Formerly registered Quebec Nov. 1840.  Transferred to Gaspé reg. 28 May 1853.   Owners, Abraham Coffin, Frederick Coffin Jnr., Richard Annett, Frederick Annett.   Master, Frederick Coffin Jnr.   Square-sterned schooner  69  1327/3500 tons.
Vessel stranded and went to pieces on Sandy Beach Point, 1867.
Wolverine Built Gaspé 1858.  Reg. June 21 1858.  Owners, John Adams, shipbuilder, Thomas Adams and Thomas Cunning, mariners.  Square sterned schooner,  49.41 tons.   Mortgaged with LeBoutillier for $1260  Nov. 27 1884.   Purchased from Thomas Adams and Edwin Adams May 5 1884 by George Annett and Louis Annett of Gaspé, mariners.   Sold April 21 1886 to John J. Cass, merchant, Cape Cove.
Gaspé Schooner – "Pinky"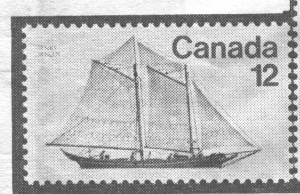 On 24th July, 1534, Jacques Cartier erected a 30ft. high wooden cross with three fleurde-lys carved on a shield at the entrance to Gaspé Harbour.   Upon it were the words, 'Vive le Roi de France'.
Rightly guessing that this cross was a claim of sovereignty over his land, the local Huron chief with whom they had become friendly objected, but was placated with gifts before the French returned to St. Malo.
The "Pinky", a schooner-rigged fishing and trading vessel about 50-70ft.long became popular about 1815 for its qualities of comfort and seaworthiness.   Two such craft were among the few small boats to survive the "American Gale" of 1851 in Chaleur Bay, the southern inlet lapping Gaspé Peninsula.
bound a whalin'
Some extracts from an article by Shirley and David MacDougall
"Over a hundred years ago the Gaspé coast was one of the top ten whaling centers in North America.   In the period between 1825-1860 Gaspesians hunted whales from up the Gulf along the Labrador and the North Shore.   In the 1861 census of the Gaspé Bay townships, the occupation of whaler was given for a total of 54 men and 10 whaling schooners were in use.
The list consists of 6 Annetts, 7 scahs, 7 bakers, 1 Cass, 4 Coffins, 2 Cunnings, 1 Davis, 1 Fingleton, 1 Guignon, 3 Harbours, 8 Millers, 2 attersons, 1 Peters, 1 Pye, 1 Stewart, 3 Suddards, 2 Tripps and 1 West..   Of the shipbuilders in Gaspé and Bonaventure counties, many of the smaller schooners (25 tons or less) were built by themaster and owner.   The 1833 Register lists the names of Peter echervaise, Peter briard and Peter Mabe Jnr., as shipbuilders in Gaspé county.   In 1832 twenty square rigged vessels of 190 tons were built for Robin Jones and Whitman.  A James Day built ships for Robin Jones and Whitman at Paspebiac and Gaspé.   The Collas Company built ships at Point St. Peter.
Construction
In the period between 1771-1894 whaling vessels were built in Madelaine River; Cloridorme; Riviere au Renard and Cap des Rosier on the North Shore.   In the Gaspé area there were ships built at Peninsula, Gaspé Basin; Sandy beach; Douglastown and Seal Cove.  In the Barachois region there was ship building activity in Belle Anse; Coin du Banc; Canne des Rioches; l'Anse a Beaufils and Grand Riviere.   In the Baie des Chaleurs there was Port Daniel; Nouvelle; Hopetown; New Carlisle; Maria and Restgouche.
The Ships
The largest whaling ship used was a three-masts vessel having square sails on all three masts and averaged about 325 tons in displaceents.   These vessels had a company of at least 36 men for a three year voyage.   The most popular large whale ship was the 'bark' which had three masts and carried square sails on the fore and main masts and a fore and aft sail on the schooner rig.   This vessel could attempt whaling voyages of us to four years.   The 'Brig' was a two masted ship with square sails on both masts.  Because of their smaller size the brigs could carry only three whale boats or about 22 men.   The smallest ships were the schooners which had two masts with fore and aft sails on each and a displacement of about 100 tons..
The Whales
The species of whales were the Sulphur – which was valuable for oil.   One such whale was reported to have given 100 barrels of oil.   The Sulphur was the largest whale circulating in the Gulf of St. Lawrence and varied from 40 to 90 feet in length and could be as much as 12 feet thick at the largest point of its body.   The Sulphur's tail had a spread of 20 feet and it could easily smash a boat to pieces.   When in search of food these creatures would rush through the water at speeds of up to 25 mph.
The Humpback whale was the most common to be found in the Gulf at this time.   The Finner whale was the most dangerous because of its tendency to flurry at the last second.  These mammals ate seals and small porpoises and averaged from 60 to 75 feet in length.
When a whale was sighted a 30 foot boat would be lowered with six men – four rowers – a steersman – a harpooner and 300 fathoms of 1¾" rope.   To kill the whales the men used a harpoon and a lance, which was five feet long, made of iron with a long steel blade and a handle of dog-wood attached to 10 fathoms of rope.   When the harpoon was thrown one of the men threw a bucket of water over the rope to prevent their hands from being burned.   When a whale was struck the boat was carried under the water and only the upper parts of the men were visible as they shot through the water with foam flying in every direction.
Usually the men were paid by shares.   The harpooners received one-twelfth and the other one sixteenth of the catch.   A 30 gallon barrel of whale oil would be worth as much as six pounds sterling ($24.00)    The flesh of the young Humpback whale calves was considered as good as beef.   The skin could be converted into leather.   Soap was made from the oil of the jaw-bone.   The whaling season lasted from August to October and during the remainder of the ice-free shipping season, the whaling schooners were used for coasting to Quebec, Sydney, Charlottetown, Halifax and  Newfoundland ports.   Some were used during the winter months for shipments of dried cod and other cargo to the West Indies, the Argentine and the Mediterranean.   Trans-Atlantic voyages required that the master have a Master Mariner's licence, but a coasting ticket was sufficient for anywhere else on the east coast of North and South America.
The Men
The first whaler appears to have been John Boyle and his brothers George, James and Felix, the sons of James Boyle, who had settled in Gaspé in the late 1770's.   A report from the 1830's says:  "… an American from Nantucket gave the Messrs. Boyle of the Basin some instructions as to the method practised by the Americans in killing whales, and these young men's perseverance fully demonstrated the utility of promoting that pursuit…".
One of the earliest whalers of the Gaspé coast was Captain William Annett of Peninsula who roamed the Gulf in the early 1830's.   The Annetts were a family of giants.   The shortest of them was a daughter, five feet eight inches tall.   The Captain himself was six feet five inches tall and he used to say that if he had to bend down to go through other people's doors he wouldn't do this in his own home so he built his door openings high enough so that he could go in and out comfortably.
The man was of great strength and the story was told of how he and his brother carried a fully equipped whale boat on their shoulders.   One of the Annetts was said to have climbed halfway to the mast top with a barrel of pork tied to his leg.   On one occasion, Captain Fred Annett's boat was chasing a whale near Grosse Water Bay on the Labrador and when they had finally harpooned the whale it flipped the edge of its tail and upset the boat like a chip.   The men were thrown into the water but they managed to climb into the bottom of the boat.   The line got jammed and the whale pulled the boat down.   Fortunately a second boat was nearby because none of the men could swim.   Two of them, a Boyle and a Coffin, were holding onto each other and were pulled out as they were going down for the third time.
Captain Annett was renowned for his great strength and one day he was seated at opposite ends of a table from a man named William West and the two men got into an argument.   Annett struck his end of the table and broke it off and so West hit his end of the table with his fist and broke that end also.   There is a story of Captain Charles Stewart who was considered one of the finest whalers on the Gaspé coast.   One time his boat had sighted a whale on the Labrador and Captain Stewart landed the harpoon but the whale pulled their boat almost 150 miles.   Midnight had arrived and the men hadn't eaten so they cut clear.   They heard the sound of sails flapping so their bat approached the second vessel but the men on the second ship thought they were pirates.   "You need not be afraid", said Captain Stewart, "I thought perhaps you might give us something to eat."    One of the men on the boat said that Stewart had met his match and one of the Captain's men answered, "You will find that the whale has his match too".
Another time a whale cow came searching for her calf in drifting ice and passed under the Captain's boat.   Her tail threw him and another man into the water but they held onto the line and were pulled back into the boat.   Another well known whaler, "Uncle Abner" Coffin, was sent flying fifteen feet by the tail of a whale.   When he was picked up blood was flowing from his ears but he recovered and the whale was secured.
Mr. Felix Annett came upon a whale and her calf one day and the men were determined to get the calf.   The whale spouted and went down only to return directly underneath the boat leaving the men high and dry on the whale's back.   Mr. Annett ordered the men to pull in the steering oar and to keep perfectly still.   Every man gabbed on to a part of the boat expecting to be thrown into the water at any second, but the massive whale simply settled down underwater leaving the boat and her crew still on the water.   The only explanation they could offer was that the whale thought the boat was her calf.
The wok of the Gaspesian whaler ended in the late 1890's when Captain Joseph Trippe made his last cruise.   The power boat and the harpoon gun replaced the old tradition and killed the whaling industry on the Gaspé coast before the turn of the century.
Gaspé Basin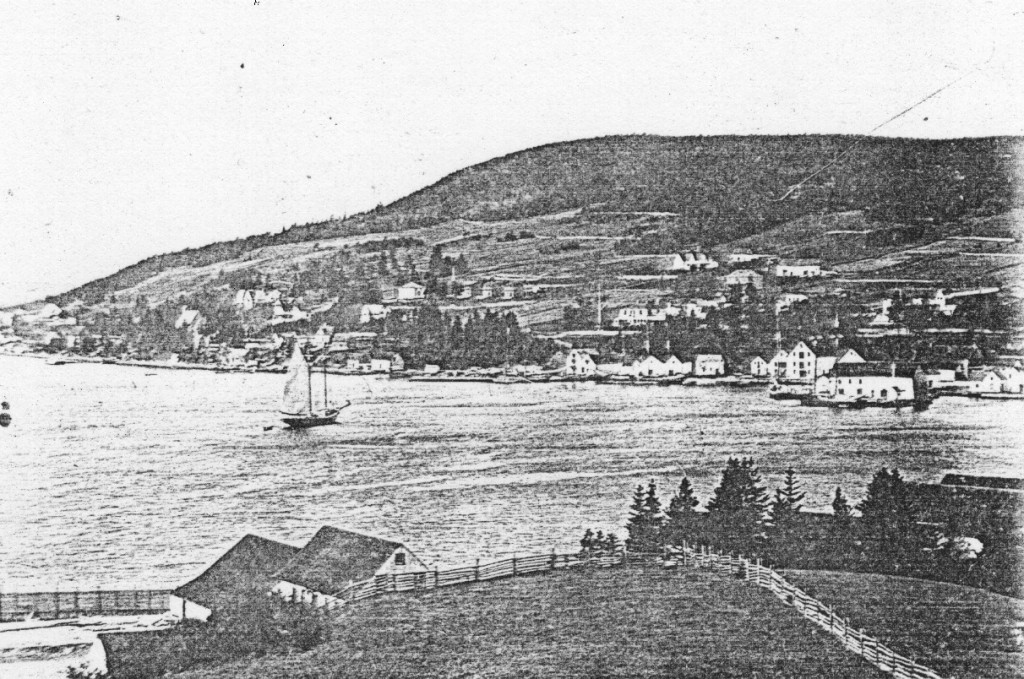 An early photo of Gaspé Basin in the era of the sailing ship.   A typical Gaspé schooner lies off-shore.   Three other schooners and a three -masted ship lie at the wharves.
Gaspé Basin Entrance
An early photo of the entrance to Gaspé Basin in the era of the sailing ships.   The foreground shows the sand point of Gaspé Harbour with its warehouses and wharves.  On the Gaspé side can be seen the old Roman Catholic Church.